Description
Uses
Fights dark circles caused by staying up late, lack of sleep and puffiness
Moisturizing, anti-wrinkle for the eye area and especially helps reduce swelling, brighten the sensitive eye area.
Helps increase blood circulation and brings a feeling of relaxation and comfort when used
Main ingredient
6-year-old fermented red ginseng extract: Replenishes nutrients from deep within, helps cell metabolism and supports the skin to remove dead cells, stimulates the production of new cells for healthier skin.
Niacinamide: Is a substance belonging to a type of Vitamin, has antioxidant effects, maintains moisture, anti-aging for the skin, stimulates the synthesis of K1 protein and good collagen for the skin.
Dimethicone, diglycerin: Effectively lock in moisture, prevent wrinkles on the skin, effectively bring smoothness to the skin. In addition, Dimethicone can soothe and protect the skin very well. Especially those less fortunate women who have sensitive skin that is easily irritated.
Raspberry essence: raspberry: Helps prevent premature aging. Because raspberries contain a compound called Ellagitannin, which has been scientifically proven to have 50% stronger anti-aging abilities than strawberries, and is also 3 times stronger than kiwis and 10 times stronger than tomatoes.
Avocado seed essence: Helps skin not to dry out, avoiding damage from the sun. In addition, it helps to prevent wrinkles and fade scars, regenerate skin
Ingredients: 
WATER, CAPRYLIC/CAPRIC TRIGLYCERIDE, BUTYLENE GLYCOL, DIMETHICONE, DIGLYCERIN, NIACINAMIDE, PENTAERYTHRITYL TETRAISOSTEARATE, SQUALANE, CETEARYL OLIVATE, GLYCERYL STEARATE, CETEARYL ALCOHOL, BUTYROSPERMUM PARKII (SHEA BUTTER), CYCLOHEXASILOXANE, SORBITAN OLIVATE, ARGININE, TOCOPHERYL ACETATE, ETHYLHEXYLGLYCERIN, ADENOSINE, MALT EXTRACT, SODIUM HYALURONATE, PROPANEDIOL, SODIUM HYALURONATE CROSSPOLYMER, HYDROLYZED GLYCOSAMINOGLYCANS, GLYCERIN, BENZYL GLYCOL, PANAX GINSENG ROOT EXTRACT, HYDROLYZED HYALURONIC ACID, PHENOXYETHANOL, HYALURONIC ACID, CAPRYLYL GLYCOL, HYDROGENATED LECITHIN, RASPBERRY KETONE, SODIUM PHOSPHATE, HYDROLYZED COLLAGEN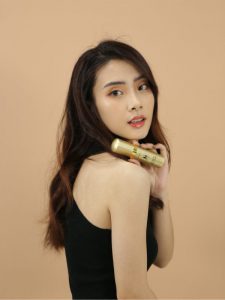 User manual
Step 1: Cleanse the face and especially the eye area with specialized makeup remover along with cleanser to remove makeup and dirt.
Step 2: Take a sufficient amount of Vanesa Eye Massage cream and use the eye roller to massage the cream evenly from the inside and out. Then rub your hands together until they are warm and then massage again so that the cream is evenly absorbed into the skin.
Step 3: Massage the cream evenly for 15 minutes to feel the difference of the skin.