COLLAGEN GOLD LUXURY SERUM – REJUVENATING 24K GOLD CONCEN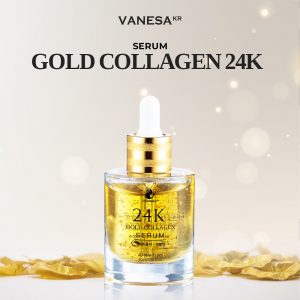 TRATED ESSENCE
Featured ingredients:
Gold: 24k gold essence contains molecules with extremely small diameters that easily penetrate deep in
to the epidermis, providing moisture to the skin, making the skin soft and smooth immediately. This ingredient also stimulates the production of collagen and elastine, increasing the elasticity and firmness of the skin. 24K gold also helps prevent and remove melanin (melasma, freckles, age spots) on the skin, making skin white and healthy from deep inside.
Hydrolyzed Collagen: Is an ingredient that helps skin stretch, fill wrinkles and rejuvenate skin.
Glycerin: Not only moisturizes this ingredient, it also helps to firm, soften and increase skin elasticity.
Niacinamide: Niacinamide is a derivative of vitamin B3, which is a water-soluble vitamin that is stable under heat and light. Niacinamide helps to replenish and stimulate the production of ceramides, collagen, and participates in biochemical processes including DNA changes and repair to help skin regain a radiant, younger-looking appearance.
Green Tea: Green tea extract is a concentrated form of green tea, which has a much higher nutrient content than the regular form. EGCG in green tea has the ability to prevent free radicals – the leading cause of signs of aging and cell damage. Green tea is also rich in vitamins B, C, E and minerals that help promote collagen production, while inhibiting collagenase – an enzyme that breaks down collagen. Therefore, the amount of collagen is maintained and continues to regenerate constantly, helping to lift muscles and improve skin elasticity. In addition, the Catechin in green tea acts on the surface, increases the skin's resistance, helps the skin form a protective barrier against the harmful effects of sunlight.
Medicine:
Lettuce: Oleic acid (omega 9) and linoleic acid (omega 6) in lettuce have the ability to provide nutrients, help improve moisture retention, and keep skin elastic and firm.
Pink Lotus: Vitamin C in lotus has anti-oxidant ability, restores broken collagen structure, increases collagen production under the skin, brings healthy skin, full of vitality.