ODER COMBO 2 CC CONCEALER STICK GIFT MAKEUP + EYEBROW LENS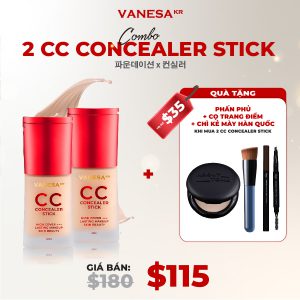 How to Use Vanesa CC Concealer Stick with Built-in Concealer Cream:
Step 1: Prepare your skin
– Before using the foundation, ensure your skin is clean and moisturized.
– Use a toner and moisturizer to soften and smoothen your skin.
Step 2: Apply the concealer cream
– With the integrated concealer cream on the foundation cap, take a small amount of cream and gently dab it on areas with imperfections such as dark spots, acne, freckles, or scars.
– Use your finger or a makeup brush to blend the concealer cream evenly, gently patting or sweeping for a natural and flawless effect.
Step 3: Use the foundation
– Twist open the foundation cap and continue applying it to the desired areas of your face.
– Dab a small amount of foundation on your finger or makeup brush and spread it evenly on your skin from the center of your face outward. Ensure the foundation is evenly distributed on your skin.
– If you prefer a lighter coverage, you can use a smaller amount. If you want to fully cover imperfections, you can add an additional layer of foundation and blend it thoroughly.
Step 4: Achieve a natural effect
– After applying the foundation, use your hands or a makeup brush to blend the foundation, ensuring a seamless integration with your skin.
– Pay attention to areas near the hairline, chin, and neck to ensure there are no visible lines or unevenness.
Step 5: Check the results and finalize
– Use the integrated mini mirror on the foundation cap to check the makeup result. Make any necessary adjustments or touch-ups.
– You can continue your makeup routine with additional steps such as applying setting powder, lipstick, and other makeup accessories to enhance your overall look.
With Vanesa CC Concealer Stick and its built-in concealer cream, creating a flawless and natural-looking base has never been easier. Experience it for yourself and discover the difference and confidence it can bring to your appearance.