SUPER BB CREAM – VANESA COLORKEY BRUSH – MULTI-USE MAKEUP CREAM FOR PEOPLE WITH MULTIPLES
INGREDIENT PRODUCTION:
+ Extracted from 6 years old fermented red ginseng, supplementing nutrients from deep inside to help skin become stronger and stronger.
+ Vitamin B3 (Niacinamide): with the effect of helping to increase ceramide, collagen, helping to shrink pores. Has the ability to rebuild the skin's protective film, helping them to become firm and perform the skin's protective function. Make the skin become healthy, strong enough to resist harmful agents from the outside and maintain younger and brighter.
+ Extracted from beeswax: Protects skin, tightens pores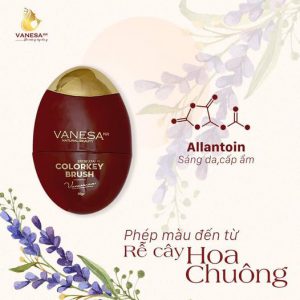 PRODUCT USES:
+ Makeup files into natural skin
+ Broad spectrum sun protection.
+ Protects skin from UVA/UVB rays
+ Perfect concealer
+ Tighten pores
HOW TO USE PRODUCT:
Clean skin before applying cream.
Take a sufficient amount of cream in your hand. Open the top cover to get the makeup brush. Apply cream all over face.
Close the product cap after use. Store in a cool, dry place, away from direct sunlight.
The product is for external use only, avoid direct contact with the face