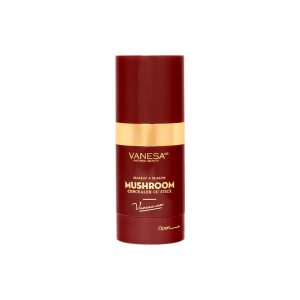 INGREDIENTS:
6-year-old fermented red ginseng extract: Replenish nutrients from deep within, help cell metabolism and support the skin to remove dead cells, stimulate the production of new cells for healthier skin.
Macadamia nut extract: Contains many minerals and vitamins, rich in Flavonoids to help prevent oxidation and prevent cells from damaging the skin.
Arnica chrysanthemum extract: Reduces swelling caused by acne, improves blood circulation to the skin to help brighten and radiant skin. Balances the pH of the skin, helps to tighten pores, clears the skin to avoid the formation of hidden acne.
Seaweed extract: Contains many essential amino acids, proteins and many skin-beautifying vitamins such as: A, B, C and E to help fight oxidation, protect skin from free radicals
Pearl extract: Contains a lot of calcium, protein, trace elements and a variety of amino acids with high nutrition to help increase elasticity, reduce wrinkles for the skin.
Beeswax extract: Protects the skin, has good antibacterial properties, helps regenerate new cells and creates a pleasant fragrance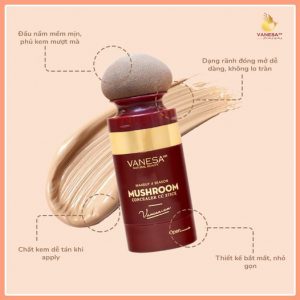 USER MANUAL
Step 1: Clean your face with cleanser to remove impurities and dirt on the skin
Step 2: Use Toner to moisturize the skin
Step 3: Twist a little cream on the top of the mushroom, dot it evenly on 5 areas: forehead, chin, cheeks and nose, then take the tip to spread and spread the cream evenly on the skin.
Step 4: Follow a little cream on the area under the neck and chin to avoid uneven skin tone between the face and neck
Step 5: You can use more mineral spray to moisturize and keep the foundation longer.